Other Main Program Artists
At Roppongi Art Night 2022, you'll be able to enjoy Takashi Murakami not just as the main program artist, but also in his capacity as a producer. The artists selected through Murakami's curation will take a similar approach in creating new works of "Doraemon," and these results under Murakami's production will be displayed at Roppongi Hills Arena, TOKYO MIDTOWN, and the National Art Center, Tokyo.
It is with great anticipation that we look forward to this collaboration with a legendary icon, featuring Murakami and contemporary artists.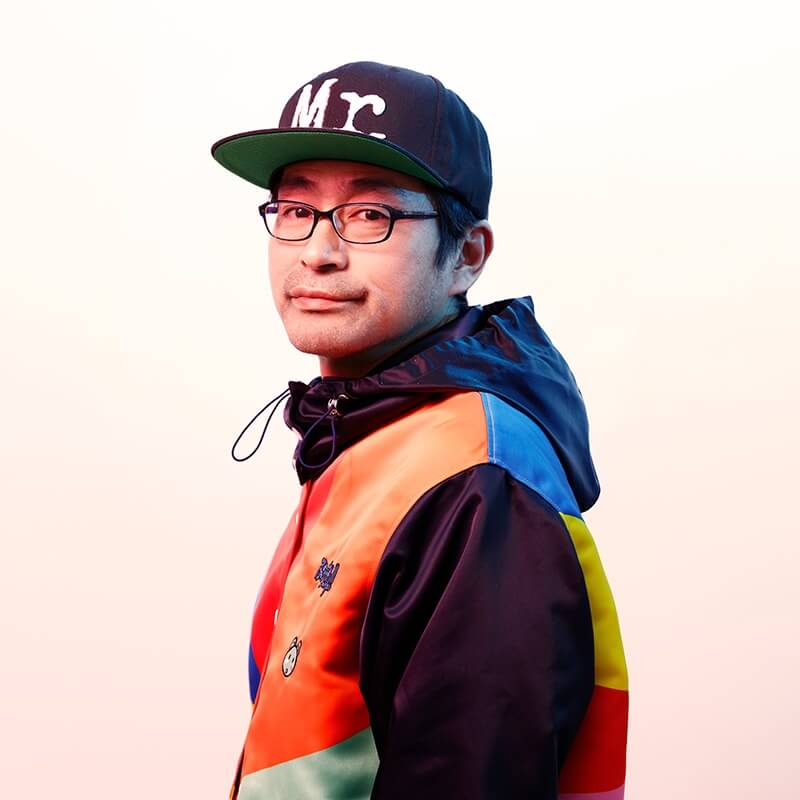 Mr.
1969 Born in Cupa
1996 Graduated from Sokei Academy of Fine Art & Design
Mr. spent over 20 years as Takashi Murakami's protégé. He depicts original Japanese scenery and young girls in the style of anime and video game characters.In 2019, he collaborated with fashion brand Mira Mikati. His vibrant activities are not limited to Japan, as he has held solo exhibitions and participated in art fairs internationally.
2006

"Mr.", Musée d'Art Contemporain, Lyon

2014

"Line On: Mr.'s Japanese Neo-Pop", Seattle Art Museum, Seattle

2017

"FLOATING IN THE AIR IN THE VICINITY OF A CONVENIENCE STORE", Lehmann Maupin Gallery, Hong Kong
"Yokohama Triennale 2017 Islands, Constellations & Galapagos", Yokohama Museum of Art, Yokohama

2019

"Mr.'s Melancholy Walk Around the Town", Galerie Perrotin, Paris
"A Call to Action", Musée Guimet, Paris

2021

"Quotidianist", How Art Museum, Shanghai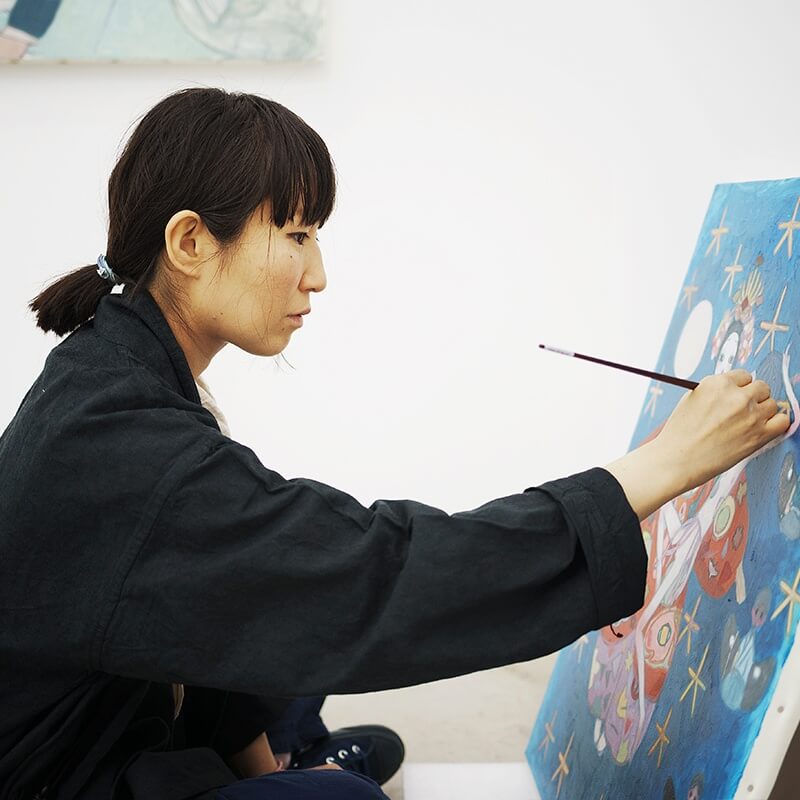 Aya Takano
1976 Born in Saitama
1997 Debuted while enrolled as a university art student
Aya Takano creates a peculiar imaginary realm that draws inspiration from the worldviews depicted in Japanese manga and international novels and mythologies. In addition to numerous solo and group exhibitions across the globe, she has received high accolades as a contemporary artist.
2006

"Aya Takano", Musée d'Art Contemporain, Lyon

2010

"Artist du New Pop SWR3 2010″, Museum Frieder Burda, Baden baden

2012

"Heaven Is Inside Of You", Galerie Perrotin, Miami

2015

"The Ocean Inside, The Flowers Inside", Johyun Gallery, Busan

2019

"UNIO MYSTICA, Galerie Perrotin", New York

2020

"Let's make the universe a better place", Galerie Perrotin, Seoul

2021

"beginning, liminal, ego" Galerie Perrotin", Hong Kong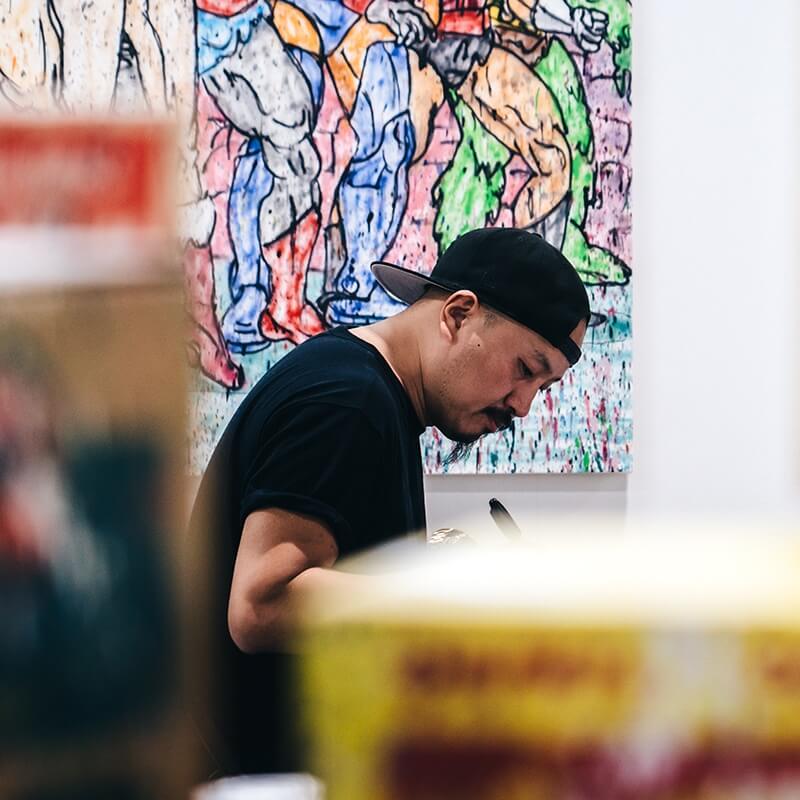 MADSAKI
1974 Born in Osaka
1980 Moved to New Jersey, USA
1996 Graduated from Parsons School of Art
2004 Returned to Japan
MADSAKI creates a series of works based on provocative and satirical phrases and historical masterpieces. In recent years, he has also developed an intimate series of paintings reminiscent of a first-person narrative. His large-scale spray-painted works depict the complexities of an identity forged between Japan and America.
2016

"WANNABIE'S COLLECTION", CLEAR EDITION & GALLERY, Tokyo
"HICKORY DICKORY DOCK", Hidari Zingaro, Tokyo

2017

"HERE TODAY, GONE TOMORROW", Kaikai Kiki Gallery, Tokyo

2018

"FRENCH FRIES WITH MAYO", Galerie Perrotin, Paris

2019

"If I Had a Dream", Galerie Perrotin, Hong Kong

2021

"Hello Darkness, My Old Friend (I've come to talk with you again)", Galerie Perrotin, New York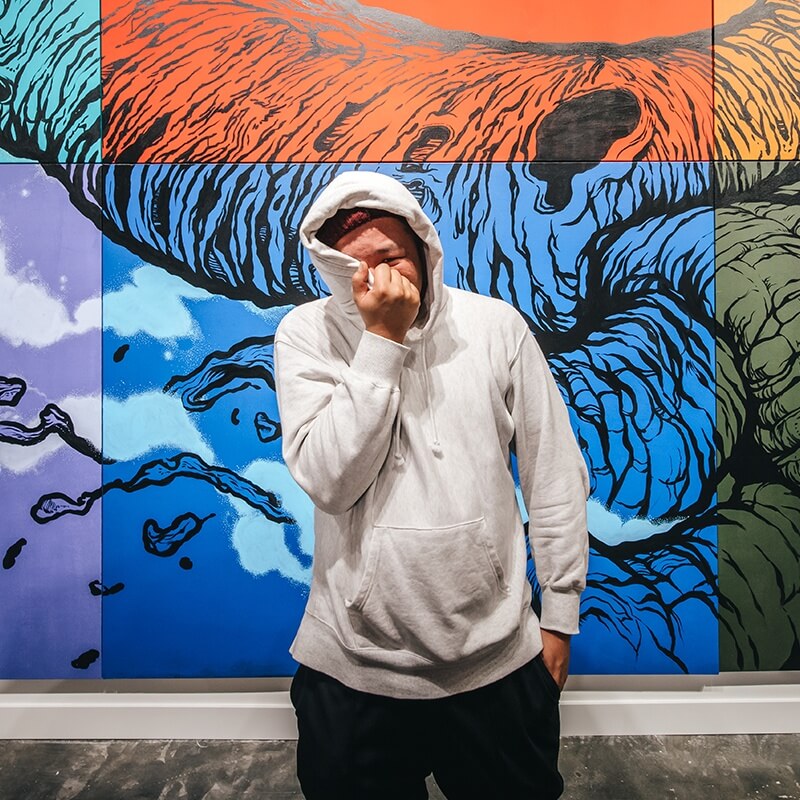 TENGAone
Born in 1977
TENGAone is a street artist based in Tokyo. His alias derives from the concept of "Ga ga Tenshoku (TenGa)," which translates as "Art is My Calling."
TENGAone grew up near a military base, where his first-hand experience of graffiti culture had a profound influence on him, and at the age of 14 he began to create his own graffiti using spray paint. After working for several years as a graphic designer for apparel and at a web design firm, he began his official career as an artist in 2007.
His activities encompass a wide range of genres, including urban graffiti, large murals on commercial and public facilities, sculpture, and graphic design. His works can also be witnessed in galleries and art fairs.
2011

"IUTER GRAND OPENING", Milan

2017

"Fabrcation, BLOCK HOUSE", Tokyo

2018

"BEYOND THE STREETS", Los Angeles
"BLIND SPOT", Kaikai Kiki Gallery, Tokyo

2019

"BEYOND THE STREETS", New York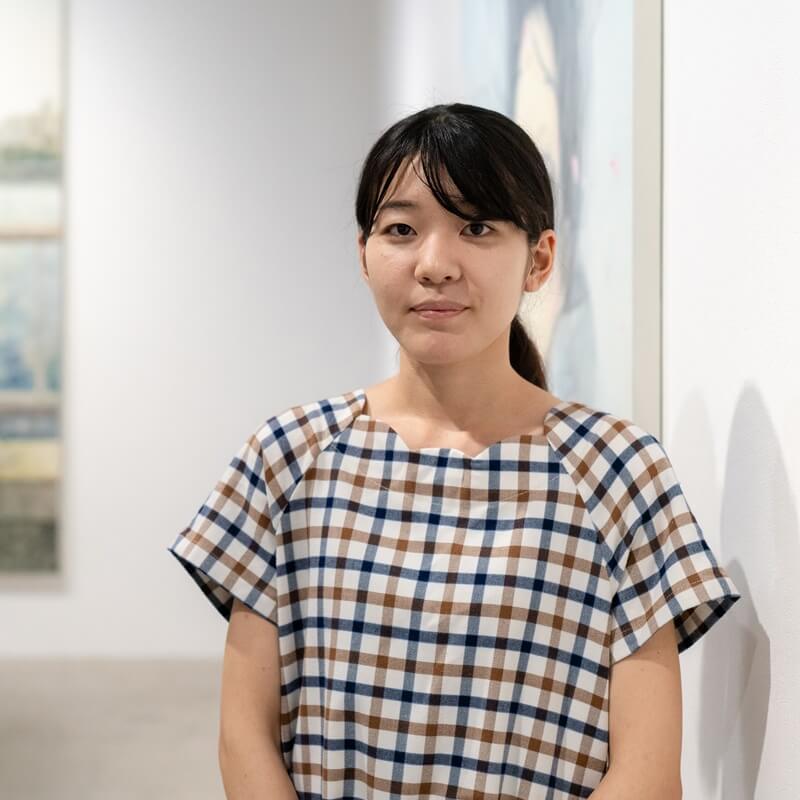 Emi Kuraya
1995 Born in Kanagawa
Graduated from Tama Art University Department of Painting
For Emi Kuraya, the act of painting young girls is similar to the act of journaling, a way to document the things she feels and sees everyday. The many characters and images she envisions within one girl will assemble together and manifest in the work. The girls she depicts take on the role of connecting the viewers with the paintings.
2017

"Comic Art Exhibition", Ginza Modern Art, Tokyo

2018

"Stage IV, Shinjuku", Ophthalmologist Gallery, Tokyo
"Inside Outside", Hidari Zingaro, Tokyo

2019

"Search for Calm", Kaikai Kiki Gallery, Tokyo

2021

"Windows and Scales", Galerie Perrotin, Seoul

2022

"Long Vacation", Galerie Perrotin, Shanghai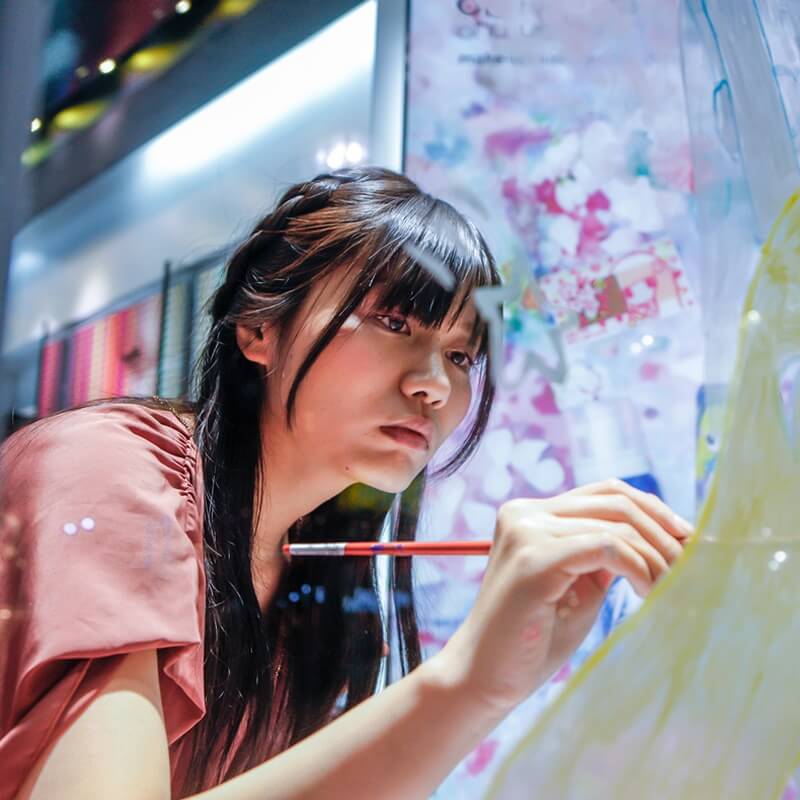 ob
Born in 1992
As a university student in Kyoto, ob organized and curated several local exhibitions by reaching out to other artists of her generation through the illustration communication service pixiv. She can be considered part of a new generation of artists who grew up in an environment where video games and social media were always present. Her recurring motif of wide-eyed young girls expresses a delicate, fantastical world.
In 2013, she collaborated with shu uemura, and in 2020, her artwork was featured on the set of the original Netflix drama FOLLOWERS, directed by Mika Ninagawa.
She has recently been featured in numerous art fairs internationally.
2010

"Houwa", 0000 Gallery, Kyoto

2011

"Oblaat", Hong Kong International Art Fair, Hong Kong

2013

"Heavenly Creatures", Kaikai Kiki Gallery, Tokyo

2017

"Lights Shimmering Between Realms", Kaikai Kiki Gallery, Tokyo

2020

"Spiral and Spring", Kaikai Kiki Gallery, Tokyo

2021

"Your, My, Story", Galerie Perrotin, NY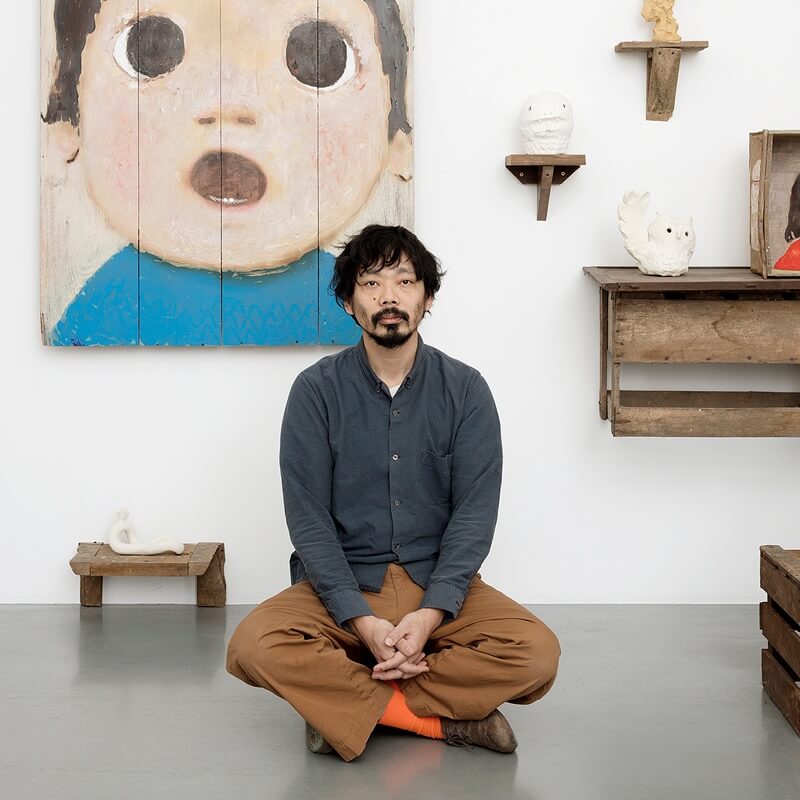 Otani Workshop
1980 Born in Shiga
In 2005, the artist began using the trade name Otani Workshop. Based in Shigaraki, Shiga, he creates vessels and objects of clay, wood, metal, and various other materials. Otani's unglazed works showcase the texture of the course-grained clay, which, combined with their cute appearance, lends them a distinct aura as sculptures.
2008

"Tou no Shigototen", Tri Gallery, Tokyo

2011

"Otani Workshop no Utsuwaten -OFF BEAT-", Gallery Utsuwa Note, Saitama

2014

"Otani Workshop", t.gallery, Tokyo

2016

"When I Was Seventeen, I Learned About Giacometti from My Art Teacher and Became Drawn to Sculpture – and So I Make Sculptures Now." Kaikai Kiki Gallery, Tokyo

2019

"Contes d'Awaji", Galerie Perrotin, Paris

2020

"Narubekunaranare Narazarumonarubekenya Narareccho (Be if you can, Even if you don't have to be, Let it be)", Galerie Perrotin, New York

2021

"Like a talisman", Galerie Perrotin, Shanghai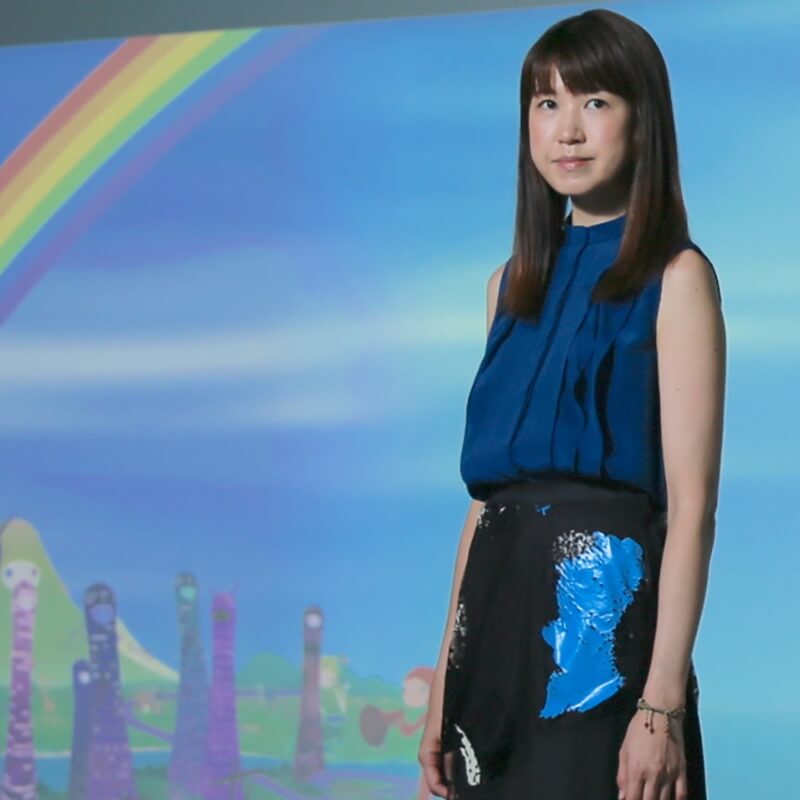 Chiho Aoshima
1974 Born in Tokyo
Chiho Aoshima made her debut with a series of chromogenic prints made through Adobe Illustrator, and in the time since has gone on to produce digital animation, sculpture, and eventually hand-painted works. The imagery in her paintings deals largely with Japanese demons and graveyard spirits, in essence creating a dialogue with the spiritual world in order to explore the personal landscape of her subconscious.
Perhaps for this reason, she has lived next door to a cemetery for over 10 years. From catastrophic scenes of human dismemberment to images of nature's raging disasters, her violent clashes of color might seem to be the product of a brutal mind, but they are in fact the channeling of her primitive response to the terrors of this world.
2006

"Chiho Aoshima", Musée d'Art Contemporain, Lyon

2007

"Chiho Aoshima: City Glow", The Museum of Fine Arts, Houston

2008

"Horror and Seduction", Fundació Joan Miró, Barcelona

2015

"REBIRTH OF THE WORLD", Seattle Art Museum, Seattle

2019

"Japan Supernatural", Art Gallery of New South Wales, Sydney

2020

"Our Tears Shall Fly Off Into Outer Space", Galerie Perrotin, Hong Kong
Kasing Lung
1972 Born in Hong Kong
Moved to the Netherlands in his youth, now based in Belgium.
Kasing Lung is a children's book illustrator. He began his collaboration with How2Work in 2011, and published the picture book My Little Planet in Taiwan. In 2014, he collaborated with writer Brigitte Minne and published Lizzy Wil Dansen in Belgium, which went on to be translated in many languages around the world.
He is also prolific in creating vinyl figures, and his enormously popular character Labubu has been released in over 300 variations from The Monsters series to the present day. Since 2016, he has been focusing on his painting and drawing works.
2014

"My Little Planet", Paradise, Taipei

2017

"De Kleuren Monsters", Gallery by the Harbour, Hong Kong

2018

"Kasing's Room 237″, Wrong Gallery, Taipei

2019

"The Monsters and The Cosmic Stars", JPS Art Gallery, Tokyo

2020

"THIS IS WHAT IT FEELS LIKE", Hidari Zingaro, Tokyo

2022

"-+", Kaikai Kiki Gallery, Tokyo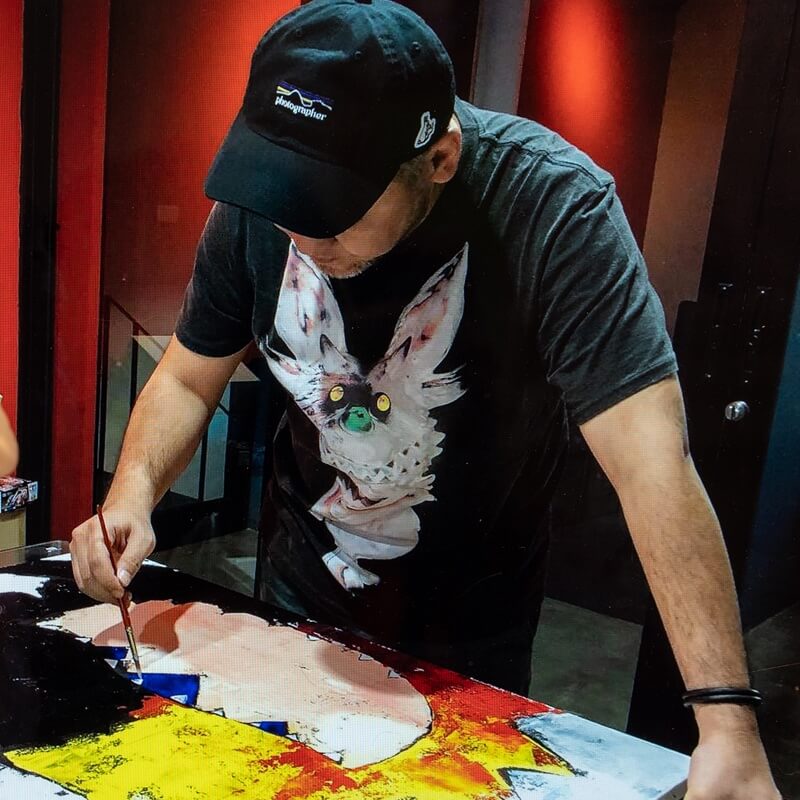 T9G
T9G is a Tokyo-based sculpture artist who makes use of his expert training in toy figure modeling to create a variety of works. Using doll eyes, his dimensional sculptures are physical realizations of his peculiar worldview.
His activities include solo and group exhibitions and art toy fairs in Taiwan, Hong Kong, Singapore, USA, Thailand, South Korea, and Shanghai. He has received high acclaim internationally for his numerous art toys featuring original characters.
2008

"T9G MUSEUM '08″, MEDICOM TOY project 1/6, Tokyo

2009

"TxT, Exhibition with US West Coast Artist TIM BISKUP", STITCH TOKYO, Tokyo

2012

"atelier", Apparel Select Shop AndA, Tokyo
"TxB", Exhibition with Portland Artist Bwana Spoons, TOY ART GALLERY, Los Angeles
"T9G's ART EXHIBITION 2012″, Shibuya Seibu Department Store, Tokyo

2013

"T9G's ART EXHIBITION TAIWAN 2013″, Taipei, Taichung, Kaohsiung Three-City Touring Exhibition, Taiwan

2018

"ARTIFACT", DOTDOTDOT GALLERY, Hong Kong

2019

"UNWRAPPED", Group Exhibition, JPS GALLERY, Tokyo
"SxT Bangkok", Exhibition with Artist Shoko Nakazawa, J.P.TOYS Gallery, Thailand

2021

"S×T ZINGARO", Hidari Zingaro, Tokyo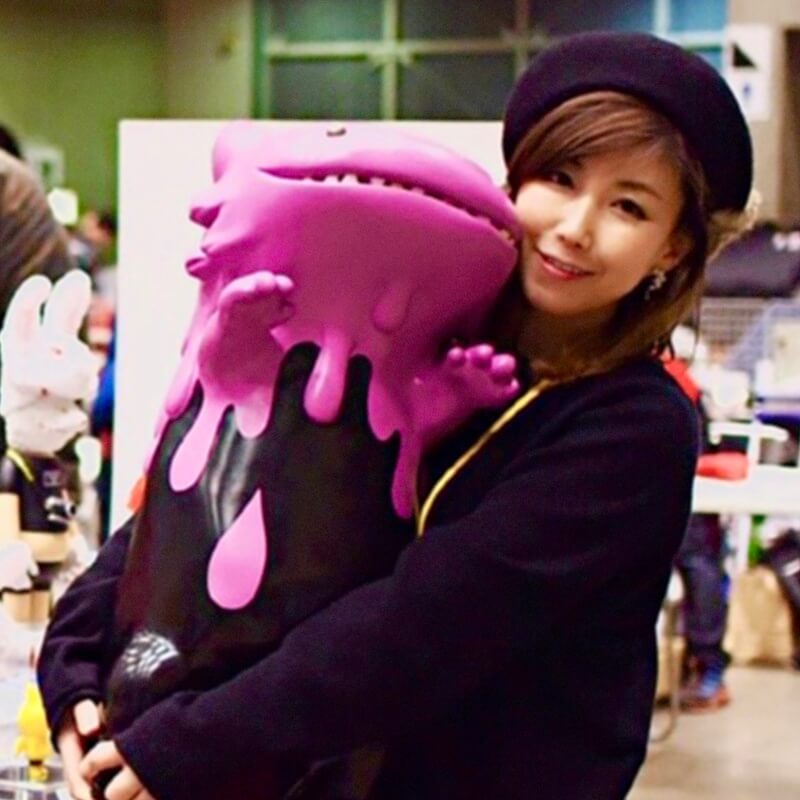 Shoko Nakazawa
Born in 1972. Resides in Tokyo.
Shoko Nakazawa has been deeply influenced by insects, living creatures, and monsters since her youth. After years working as a graphic designer and illustrator, she has more recently moved into painting, and in addition has been designing and modeling soft vinyl figures since 2014.
She has exhibited her cute monster-themed works primarily in Japan and throughout Asia, and has also participated in solo exhibitions and events in Europe and America. Her collaborations with apparel brands BEAMS and MILKBOY and her development of limited release merchandise have earned her much popularity.
Her most notable works include "Salamander Monster Byron", "Seedlas", and her collaboration with modeler T9G on Rangeron.
2017

"SxT Seoul", TOY REPUBLIC, Seoul

2018

"Amphibians", MILKBOY, Tokyo

2019

"SxT Bangkok", J.P.TOYS Gallery, Thailand
"BEASTS IN THE LOWEREAST", MYPLASTICHEART, New York
"CAMBRIAN", DOTDOTDOT GALLERY, Hong Kong

2021

"S×T ZINGARO", Hidari Zingaro, Tokyo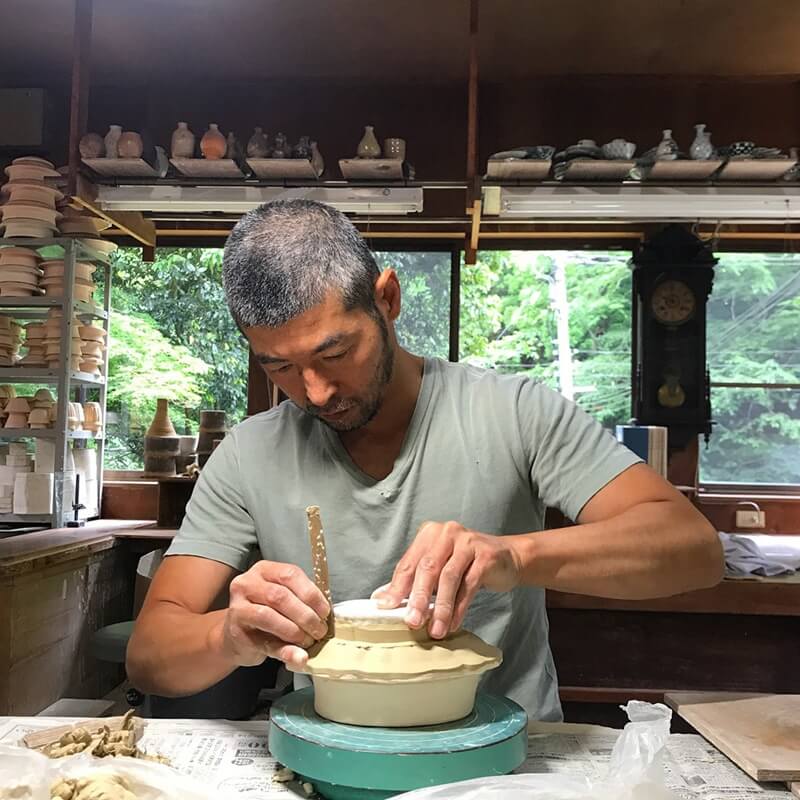 Shin Murata
1970 Born in Kyoto
Shin Murata graduated from Kyoto Seika University's Ceramics Department in 1993, completing his graduate studies the following year. He established an independent studio following his apprenticeship under ceramicist Yoshitaka Araki. After building his own kiln in Kita-ku, Kyoto, in 2003, he went on to hold over ten exhibitions a year all across Japan. Despite such a popularity, Murata stopped showing new works in 2016 in order to delve deeper into his craft. In pursuit of the ultimate harmony between ceramics and food, he founded a platform along with his wife Fusako and Takashi Murakami to exhibit and sell ceramics, calligraphy, and art. The store, called Tonari no Murata, opened in 2020 after a three-year preparation period. Kaikai Kiki continues to support its operations.
1999

"Shin Murata Exhibition", Gallery Nishikawa, Kyoto

2012

"Shin Murata Exhibition", Tri Gallery, Tokyo
"Shin Murata Exhibition", Kamakura Performing Arts Center, Kanagawa

2013

"With Thoughts on Goryeo: A Journey from Muan", Kaikai Kiki Gallery, Tokyo

2019

"Putting Things in Order, Fall 2019″, tonoto, Kyoto

2020

"From Muan to Kumogahata", Tonari no Murata, Kyoto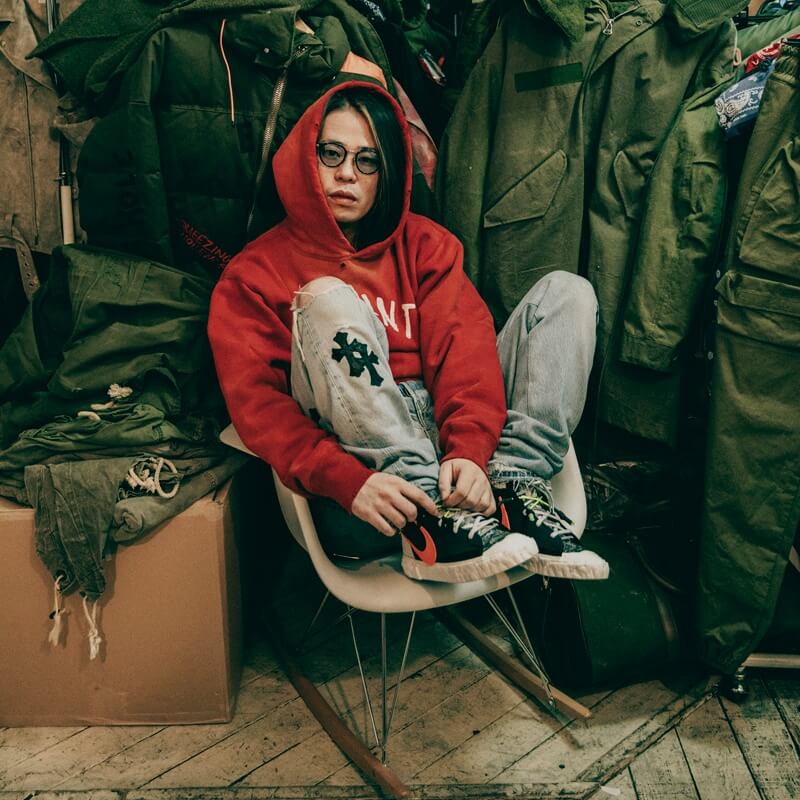 Yuta Hosokawa
Born October 27, 1982, in Osaka Prefecture.
In 2013, he launched the Upcycling brand READYMADE and released a series of bags.
The launch of the bags at a select shop Maxfield in Los Angeles gave him the opportunity to build his reputation in the U.S. first and later in Japan.
In the fall of 2020, he launched © SAINT Mxxxxxx with Cali Thornhill DeWitt, who is based in Los Angeles and is active as a multi-faceted visual artist. Immediately upon its debut, it became a popular brand that regularly sells out.
In the spring of 2021, READYMADE will release a chair made by recycling PET bottle caps, expanding their product range beyond apparel.
2021

"-YES-", Kaikai Kiki Gallery