■Message from our Main Program Artist

Roppongi Art Night was postponed three times. The first time was at the onset of the COVID-19 pandemic, then twice more due to the declarations of states of emergency in Tokyo. I suppose the fourth time is the charm, in this case, and after two and a half years, we are finally able to exhibit the balloons created as collaborations between Doraemon and 13 artists under my curation.
The COVID-19 crisis resulted in countless people harboring pent up emotions as a result of isolation, and the whole world moved even further towards a reliance on games and the internet. The chances for people to interact with Japanese contents, especially manga and anime, increased dramatically during this time, and I think as a result it deepened their appreciation for these genres.
Among them, Doraemon is an incredibly important content in Japan and Asia. The protagonist of the series is decidedly uncool and shy, and his earless cat-like robot companion helps him along, though the bashful kid's various problems are never fully resolved. But regardless, he would live and laugh along the way… I believe that this philosophy of life, which is diametrically opposite from "dreams come true," embodied within this work resonates deeply with the people of Asia now.
Just as Mickey Mouse is for America, Doraemon is an iconic character for Asia. This is why I have been collaborating with Doraemon as an emblem of Japan, and this time, I reached out to 13 artists in hopes of further developing this collaboration between Doraemon and Japanese artists.
I am hoping that we will be able to provide some augmented reality (AR) experiences at several locations as well. At any rate, please enjoy.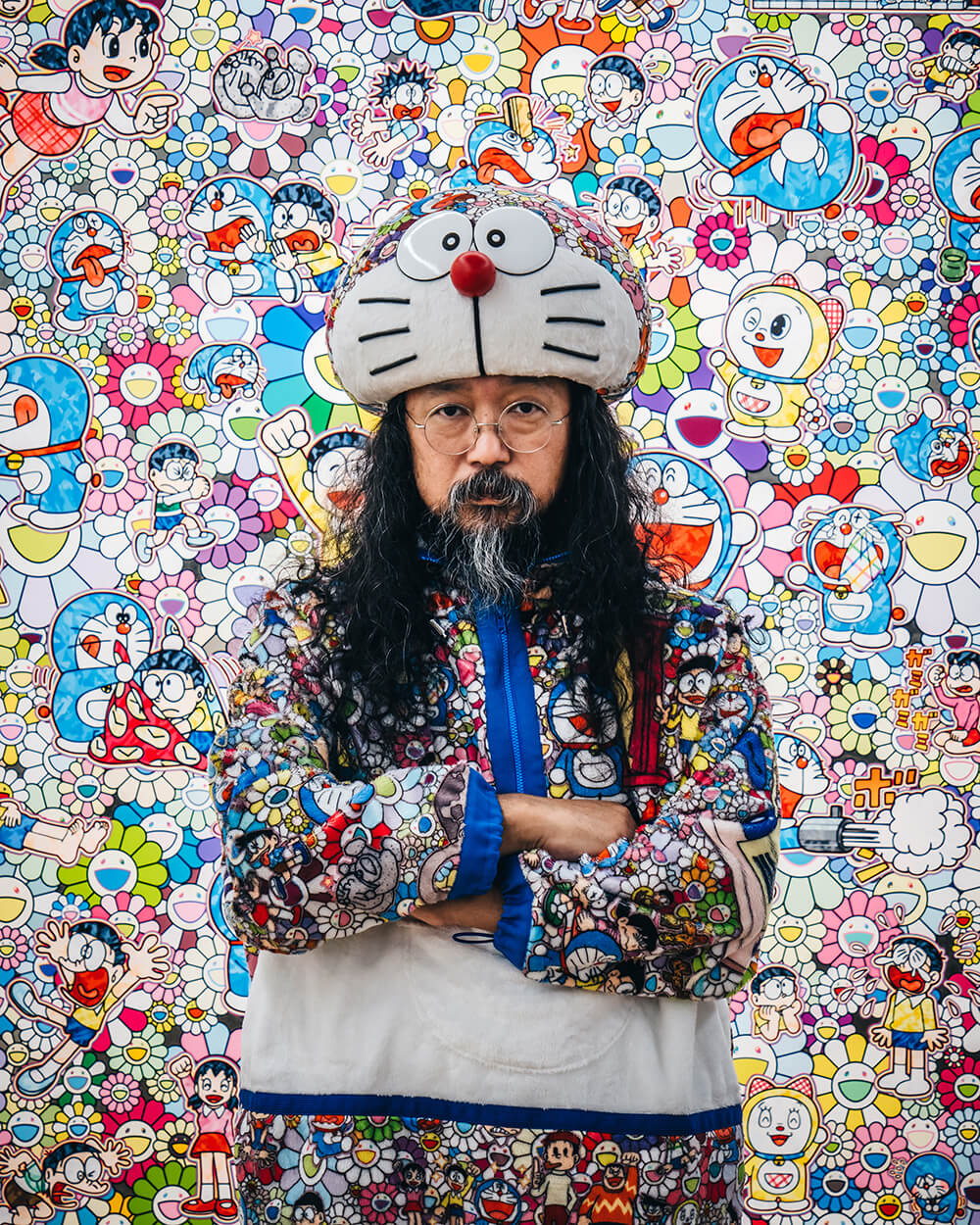 (Profile)
Takashi Murakami
Born in Tokyo in 1962.
The originator and proponent of Superflat theory, which reconstructs Japanese traditional paintings and the origin of Japanese contemporary art through visual premises of anime and manga.
Murakami has created numerous characters including Miss Ko2 and Mr. DOB that reflect the otaku culture and presents them in the forms of intentionally kitsch sculptures and acutely two-dimensional paintings antithetical to the Western perspective techniques. Murakami's cultural theory based on subcultures not only deconstructs the highbrow/lowbrow hierarchy but critically illustrates the post-World War II Japanese psychology, establishing a discourse unique to Japan in the increasingly globalizing art scene. The artist continues to attract a wide-ranging audience beyond contemporary art through his multifaceted activities including his collaboration with Louis Vuitton, Kanye West and Drake and focuses on street culture and contemporary ceramics.
The final installment of his Superflat trilogy of curated exhibitions, Little Boy: The Arts of Japan's Exploding Subculture (New York, 2005), was awarded The Best Thematic Museum Show in New York by AICA that year.
His first retrospective, ©MURAKAMI (2007 – 2009) toured four cities in North America and Europe, starting with the Museum of Contemporary Art, Los Angeles. He has since been holding major solo exhibitions around the world, including at the Palace of Versailles (2010), Al Riwaq Exhibition Hall (Doha, 2012), the Mori Art Museum (Tokyo, 2015), the Garage Museum of Contemporary Art (Moscow, 2017), and Tai Kwun Contemporary (Hong Kong, 2019).
In recent years, Murakami has taken on NFTs, releasing his "Murakami.Flowers" and "CLONE X," a collaborative project with RTFKT. He received a Special Achievement award at the Webby Awards in 2022. He has recently held his solo exhibition, An Arrow through History, at Gagosian in New York, with the two worlds of digital and the real as its theme.